PUBLICATIONS
Articles by Lynda Simmons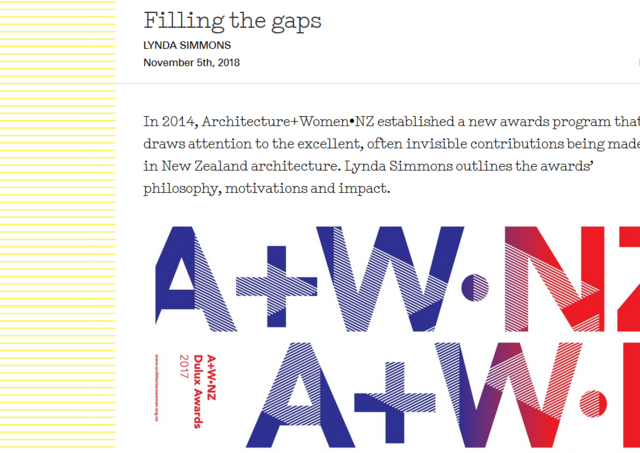 Filling The Gaps, published on Parlour Website 5 November 2018
By Lynda Simmons
Article published Into The Underworld Exhibition - Māhi Raro-Whenua by Chirag Jindal
September 2018, Silo Gallery, Wynyard Quarter, Auckland.
Image: Chirag Jindal
Additional image in PDF: Anna Atkins (1799-1871) Algae Cyanotype Published in Photographs of British Algae: Cyanotype Impressions. (1843)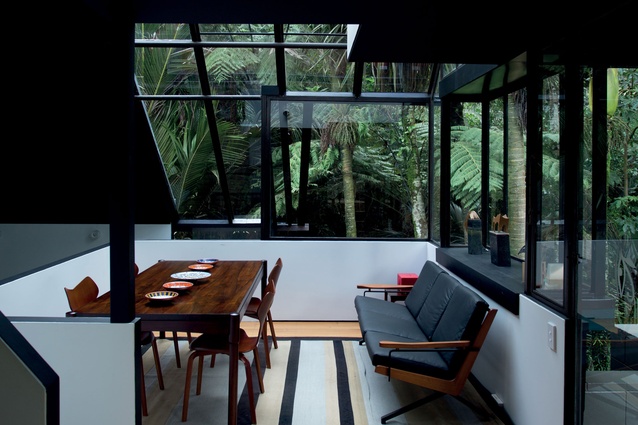 The 'Green House', a 1970's gem by Claude Megson, and recently re-invigorated by Rafik Patel, is reviewed for ArchitectureNZ February/March 2018.
Image: Andrew Lowe
Architecture Now has published an article on the updated progress of the SGA / A+W NZ Motu Kaikoura Project, written by A+W NZ Co-Chair Lynda Simmons. 10 Nov 2017.
NZIA Local Awards 2017 (Auckland and Northland Region) Convenor's Comments.
Koha / An Offering of New Zealand Architecture and Design
NZIA Publication by John Walsh 2016
Free Broadsheet available at 'Future Islands', NZIA Venice Architecture Biennale 2016
'Designing Women Seek Rightful Place' by Lucy Treep and Lynda Simmons
pp18-19, Koha, Issue One, NZIA

In response to an email received from Matt Ritani in 2014, regarding access (or restrictions) to the Architecture+Women•NZ membership (database), A+W•NZ Co-Chair Lynda Simmons wrote a Letter to the Editor of the architecturenz magazine. The email questioned the inclusion or otherwise of trans*women in the A+W•NZ community, and prompted the public reply as a way to remind all in the architectural community that A+W•NZ was set up with 'visible' and 'inclusive' as the two core aims - ie. to remove barriers which keep so many unseen.
Article published by ArchitectureNZ 04 (2014) pp. 33-35
by Lynda Simmons
Gentle Foundations: Extrapolations of The Whare in the Bush.
EXHIBITION AND PUBLICATION.
Published September 2014 by St Paul St Publishing and Architecture+Women•NZ.
Designed by Amy Yalland, printed by Index Press.

Publication by Rebecca Green and Elisapeta Heta.
Exhibition curated by Tosh Ahkit.
'The Whare in the Bush' project (2012-14) by Ruby Watson, Raukura Turei, Rebecca Green and Elisapeta Heta.
Architecture by Women 2003-2013 (2014)
Article published by BLOCK by Megan Rule and Lynda Simmons
Interstices 12 Unsettled Containers, ed. Engels - Schwarzpaul, T and Douglas, A, 2012, pp. 126 - 130
Making Room. Architecture New Zealand, September 2019 (Issue 5). Pp. 14-15
Image: Theja Jayalath 'Perforated' – from 'Drawing Inhabitation', (2016) MArch (Prof) thesis.
The Issue of Unpaid Hours. Architecture New Zealand, July 2019 (Issue 4). Pp. 16-17
Image: Marianne Calvelo, 'Legitimising the margin' – from Mad Women: Legitimising Public Domesticity, (2013) MArch(Prof) thesis.

Empty Architecture. Architecture New Zealand, April/May 2019. Pp. 16-17
Image: Raukura Turei (Ngāi Tai Ki Tāmaki, Ngā Rauru) 'Conceptual Plan Event Phases 1 and 2 (cropped)' – from Looking Up Skirts: Te Hiki a Hine-Ruhi, (2011) March (Prof ) thesis.
Loss and Libraries. Architecture New Zealand, Feb/March 2019. Pp. 16-17
Image: Sharon Jansen, Wharf View, Auckland 1982, Architecture & Planning Library, the University of Auckland Libraries and Learning Services.
HOME Magazine February / March 2014
On the last page of each issue, HOME magazine publishes a 'My Favourite Building' image and commentary. The Feb/March issue has a favourite by Lynda Simmons, one of the co-founders of A+W•NZ. She chose The Teps, because of its personal historic and current links between her grandfather and her children, and because of its historic and current role it plays in the city. And for its interior beauty, combining light, water and shadow.
NZ Constructor July 1990 pg 2
Exhibition Review, The Fox Gallery, Auckland, 1 May - 1 June 1990
NZ Constructor November 1990 pg 4
Review - Architecture Week 1990 Slide Show